Regular price
$76.00 CAD
Sale price
$54.00 CAD
Unit price
per
Sale
Sold out
Massive Pumps, Laser Focus, Energy, Power, Euphoria
Take your workouts to the next level with Florida Maniac, the game-changing preworkout powder that will revolutionize your fitness routine. Crafted with a powerful blend of carefully selected ingredients, this cutting-edge formula will deliver an unparalleled surge of energy, sharpen mental clarity, and enable you to push past plateaus effortlessly. Fuel your ambition, conquer your goals, and unlock your true potential with Florida Maniac—the secret weapon every fitness enthusiast needs.
Try it today and see the difference!
Featuring
300Mg of Caffeine 
3500mg of Beta-Alanine  
200mg of Juniper Berry extract .
7000mg of L-Citrulline Malate 
Astragin

®

 
Vita cherry

®
Made in the USA
These statements have not been evaluated by the Food and Drug Administration. This product is not intended to diagnose, treat, cure, or prevent any disease
Share
View full details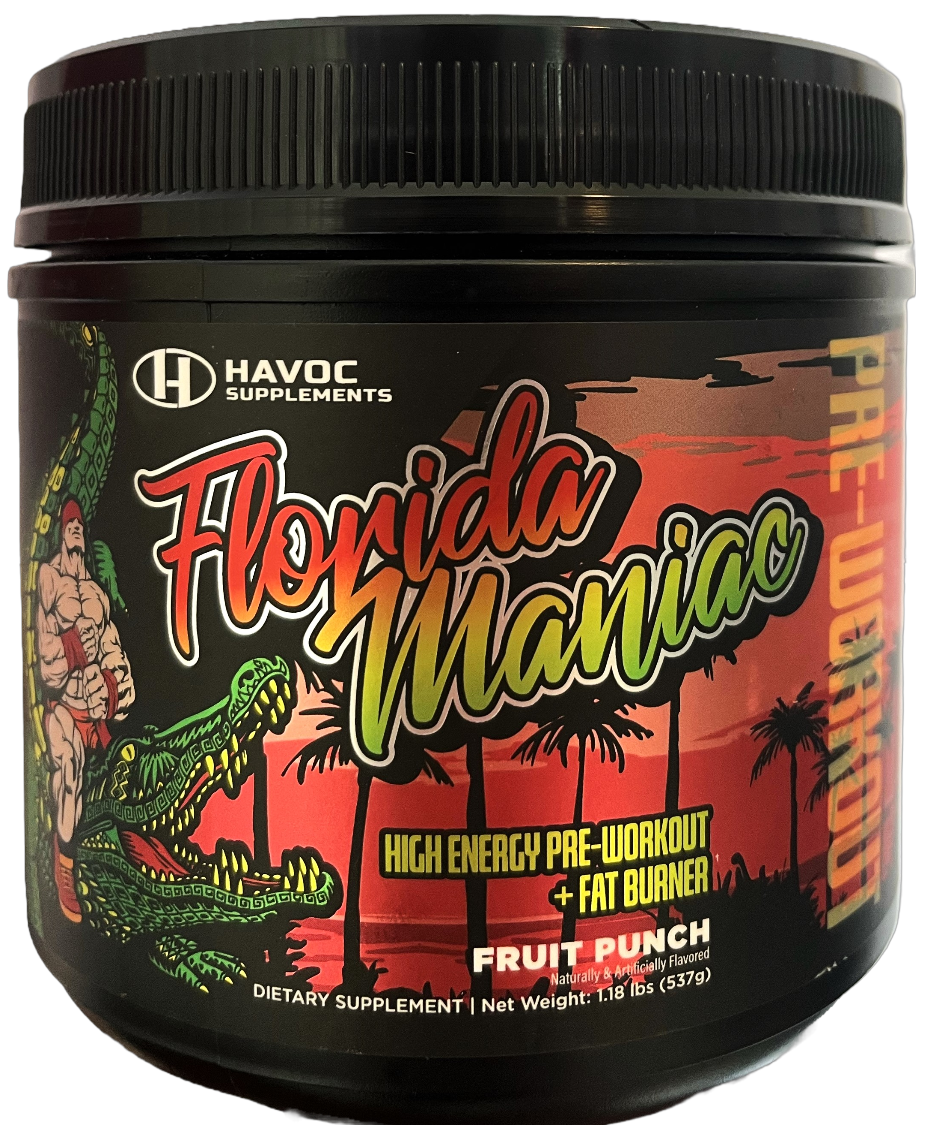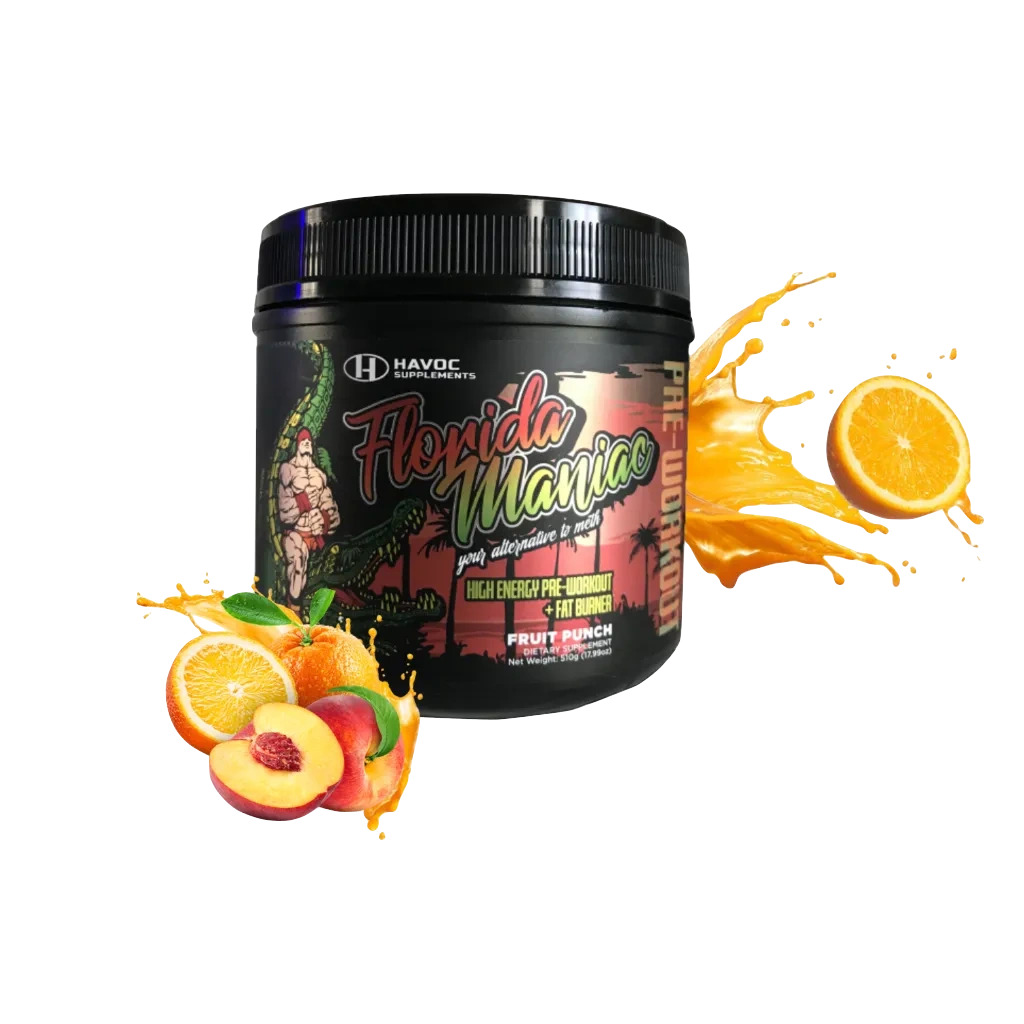 The old formula definitely made me feel crazy in a good way. Hit some crazy PRs with it and it definitely got me through after long tough days working electrical. The new formula is still good and nice pump but not as crazy possessed feeling as the old. I still use it on days I'm struggling. I'd compare it to similar to wrecked pre-work out now
Amazing amazing stuff in using it right now before work a must have
best preworkout around
By far the best preworkout I've had, I usually get sick from taking anything with caffeine but one of my friends gave me some to try and i didn't even get sick, the flavor was on point best I've ever had and the pump/ focus had me wanting to go crazy and fight someone or a gorilla. try this fr
Awesome stuff
Florida Maniac is fantastic. It gives me tons of energy without crashing, insane focus, and great pumps. It's also surprisingly tasty.
Best pre I've tried
Best pre workout as far as pumps and flavor period! I've used many preworkouts over the past decade and this takes the cake. The punch flavor is like a tangy version of cactus cooler. The citrulline, betanine and alanine are all above clinical dosing and the stim is amazing. It's a true one scoop and mixes super well, no powder at the bottom of the shaker. Great absorbing agents and a nice motivated hyped feeling for 2 hours after taking. Only thing I would change is adding glycerpump and maybe alpha GPC but that's nit picking. I did a review and comparison. Check it out https://youtu.be/fxiqKvY4ojk
The Florida maniac review is at 17:25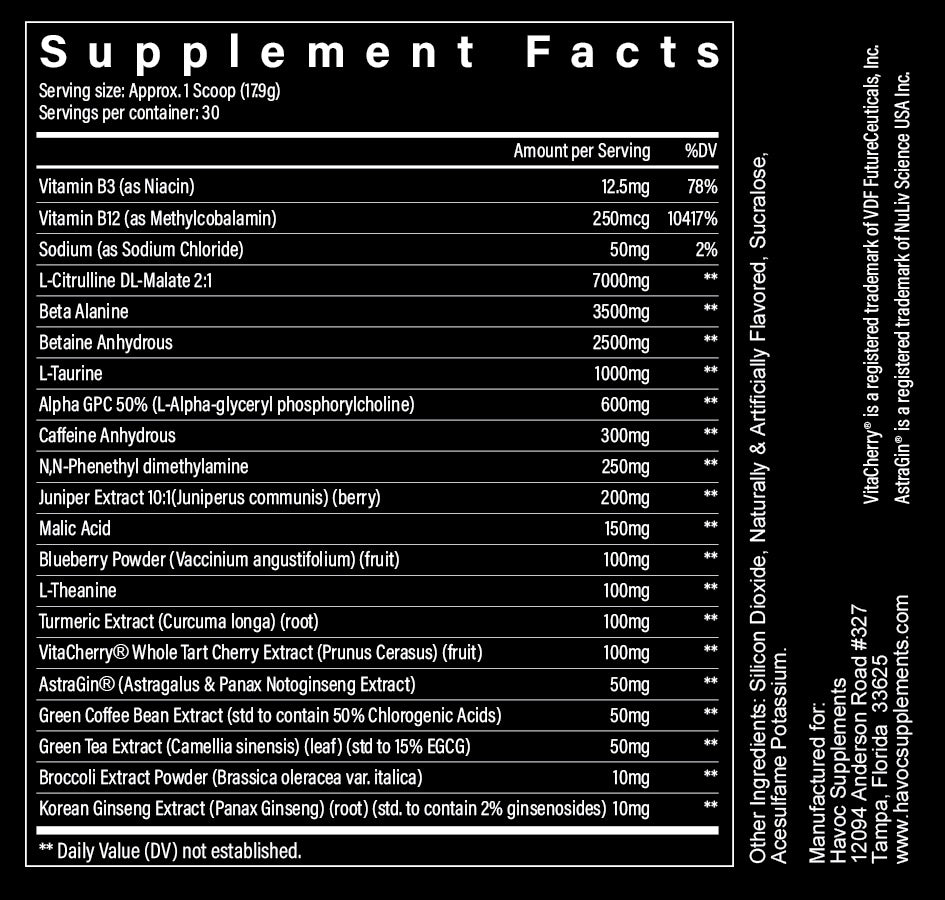 Premium Ingredients Only
We believe that a great Preworkout means much more than a tub of Caffeine like what many well known brands sell, This is why we were determined to make the most effective Preworkout with impactful ingredients including Patented ingridients such as Bioperine®,Astragin® and Vitacherry® Paired with Ingredients that deliver increased Drive,Focus,Strength and dopamine levels giving a sense of Euphoria
Notable Ingredients
AstraGin®

AstraGin®-supports increased absorption of a wide range of nutrients making some ingredients stronger. in addition, it Promotes healthy gut lining and tight junction functioning, ultimately leading to associated effects like reduced inflammation in the intestinal lining.
Bioperine®

Bioperine®-has been shown in clinical trials to increase absorption of several nutrients. In addition, it has also been shown to help with thermogenesis, which is the metabolic process that generates energy in the human body, a key factor in maintaining weight loss.
VitaCherry®

VitaCherry®-Studies of cherries suggest cherries may protect the body against the damaging effects of free radicals and may promote cardiovascular health. Also, Emerging research on tart cherries in particular has indicated that tart cherries can: support healthy inflammatory response; slow lipid peroxidation; and, increase antioxidant capacity in the blood. Research also suggests that tart cherries may improve recovery following strenuous exercise by limiting inflammation levels in the body.
Eria Jarensis

functions as a neuromodulator in the central nervous system where it amplifys dopamine and noradrenaline levels (the feel-good neurotransmitters). These two Hormones which eria jarensis effects are directly responsible for enhancing mood,concentration,motivation to get your ass in the gym,alertness also while providing feelings of euphoria. it can also act as a thermogenic and appetite surpressant promotingFAT LOSS, Eria can evenreducefeelings ofanxiety!
Alpha Gpc 50%

Alpha GPC-50% Is known for increased Power output, Cognitive-Enhancement, endurance performance and growth hormone secretion it also increases the chemical acetylcholine in the brain which helps improve memory and learning.
L-Citruline Malate

Citrulline Malate helps boost nitric oxide levels to help increase blood flow and deliver nutrients to your muscles, creating the 'pump' effect.
Caffeine Anhydrous

A dehydrated form of caffeine to promote alertness and wakefulness
Beta Alanine

Amino Acid that helps provide the drive, It is known to increase Muscular Endurance during high intensity exercise. This is also what causes the tingling effect!
Juniper Berry Extract

providing euphoria and focus in the gym, it increases both the effectiveness and uptake of stimulants in the body.
L-theanine

This has been known to help Anxiety and stress relief,increased focus when paired with caffiene and also helps the immune system.